How To Work Efficiently With Remote Web Developers?
If you have decided to choose remote web developers then you must be already aware of their solid understanding and expertise in recent technologies and web trends. Remote web development agencies are most often found to have more talent and experience than local agencies. Good coders and programmers form an important part of overseas agencies. High level of productivity will add power to your business intent. However, working efficiently with remote web developers requires better communication. This can be achieved with the help of clear specifications, successive chat sessions, weekly meetings, team conferences and collaborative efforts. Being known for excellent teamwork developers need to have your readied mock-ups and design files. Your art and creativity need to be briefed in order to transfer them to codes. While creating your wireframes and web page graphics keep it simple and include reference materials. Give attention to design elements and minute details to help your remote developers come up with successful and workable implementations.
Some Key Factors to Keep in Mind While Working With a Remote Organization:
Communicate with your team on a regular basis. Clarity and efficiency must be maintained to make your collaboration successful. Send and receive briefs and overviews of work at regular intervals. Do not make too many changes while the project is being developed or is in its halfway. You can build strong relations when you negotiate yet understand your team's likes and dislikes, comforts and discomforts. Be responsible in your approach. If at any point you feel the need for additional hours and efforts you must set fresh deadlines. Choose a form of communication that that works well for both of you.
Clarity in Briefing – You must be able to brief your team about your project requirements and specifications. You can ensure a good start to your project once you provide a clear brief to your development team. A reputable and experienced agency will give you proper guidance (on platforms, technologies, tools and preferable roadmaps to take) which you must listen to in order to manage and complete your project successfully. Teamwork is important for successful project completion.
Give importance to feedbacks. Seasoned developers might often give their personal views on certain areas of work. You must know that as specialists they are more likely to have in-depth knowledge of what will work and what goes wrong and right in a project. Developers are also known to have strong foresight. You must take all criticism in your stride as they will be done with best intentions.
Designing something of your own and implementing it perfectly will require experienced set of coders building solid and efficient functionalities. Have faith in your developers who might suggest options that are provided while keeping the end user in mind. Listen to the professionals and the experienced team members.
Best Practices – Your chosen agency must advise you to choose the latest and best technologies. This will prove their worth. They must also remain open to discuss their plan in putting everything into place. Every decision must be based on experience and research. You need to have the final say but your chosen development team must help in taking a sound decision.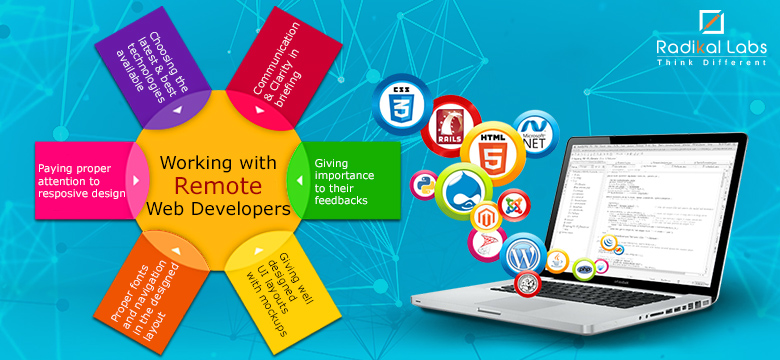 It is Important to Provide Your Developer With Well-Prepared Designs
As a web designer in need of an overseas web development agency you need to deliver well-prepared design elements, layouts, visual structures and details that help and guide your developer in a successful workflow.
Layout and Colour
Keep a tab of your colour details and convey the message to your web development team. Share a detailed overview of colour themes with your team. Leave out unnecessary details and guidelines. Maintain a common file that includes a list of styles and colours. Include details of sidebars, footers and headers. Categorising pages and sections on the basis of colours and patterns will define design and development processes.
Mock-ups
A design once created is not likely to be transferred immediately into a coded functionality. Soon after finishing your design you can share a mock-up with the developer. This will help your remote web development agency to perform a check on their course of work. Create a wireframe and send it across to your coders before implementing your designs (based on the suggestions and inputs from your developers). Your wireframe must include:
icons and graphics to be used in the inner pages
a separate section containing icon images, favicons, animations, page designs and all icons.
Your wireframes will help save considerable time and energy.
File Preparation
Maintain multiple sets of images prepared by you. Once you create a PSD file copy it in a folder (compress its size) and share all your PSD files (small sized files) with your developer. A design needs to be approved by the developer before implementing the final version.
Images and Layers
Make image optimizations to reduce file sizes. Compressed images are easier for developers to work with. Coders work hard to make light weighted web pages. Compressed images will make web pages load faster and provide for better UI.
Organize your layers into categories and groups. Proper name tags will help you ensure an efficient work environment. You can also include a project template and set specific categories for your Photoshop folders. This will make your project run in a well-organised manner.
Clarify your requirements as developers will not keep guessing what is in your mind. Be specific about flat layers and merged layers. A clear picture given to your coders will eliminate need for excessive editing and future mess. If you want to have stunning design implementations you need to hand out clear cut information and instructions to your remote web developers.
Navigation
The success of a website quite obviously depends on user engagement. If your UX and UI are not good you can say goodbye to your success story. Navigation elements in a website need to be well defined. A coder needs to clearly define (based on your briefs) your website's style sheets and user interaction structures. Each button needs to have a well defined function of its own. Your design sheet must bear every detail on button states and navigation.
Fonts
Know the different kinds of fonts. Consider pixel sizing, website structure and standard web fonts before working on your web fonts. Avoid kerns in individual and editable texts. Web fonts are very different from the fonts used in Word and other types of documents.
Pay extra Attention to Responsive Designs
Mock-ups build the bridge between developers and designers. Making a website responsive is the present day's necessity. While creating a responsive design consider all device sizes (existing, latest and past), font heights and sizes, footer, sidebars, changeable icons, graphics and icons. Pose questions related to functions navigation details of your website. Start by implementing the easier and basic elements and make gradual progress with complex incorporations.
How to Find a Good Coding Team?
You need to ascertain the fact that you have engaged the best coders for your website development project. Working with remote web developers need you to be on the same page throughout your project. In order to decide which overseas agency is suitable for you need to research, analyse and review your immediate choices on the basis of your agency's portfolio.
You must be clear about your needs and choose the exact services offered by the agency. Whether it is ecommerce, CMS, Javascript, .Net, front end or back end development you must match your requirements with the services offered.
Check for existing online presence and testimonials that say meaningful things about the company. An agency's claims can be checked and verified. Calling up their clients (both present and past) can help you get a clear picture.
Do not follow blank shooters. There are thousands of companies that make false claims. A well-known organization will never do too much marketing.
Make a background check and it will let you have some solid numbers and figures of clients and projects.
Make multiple calls and compare rates before choosing a suitable development agency. A professional company will be punctual. Quick and prompt responses usually come from experienced agencies. Make detailed queries and the answers will tell a lot about the way the agency works.
A brilliant partner is just a few minutes away but it should not only be your partner. A good company must have other projects to handle, other than yours.