Japan Will Surpass the World in Mobile Game Revenues in 2016
Japan reaches the top spot in mobile game revenue earnings with $12.4 billion being churned by the nation in 2016. Current revenue figures have made Japan surpass South Korea, China, Germany and the United States. Amsterdam's Newzoo BV has brought out data on the current year's global market trends. With the recent news creating frenzy in the mobile world there are industry experts suggesting an imminent cold war in the gaming marketplace.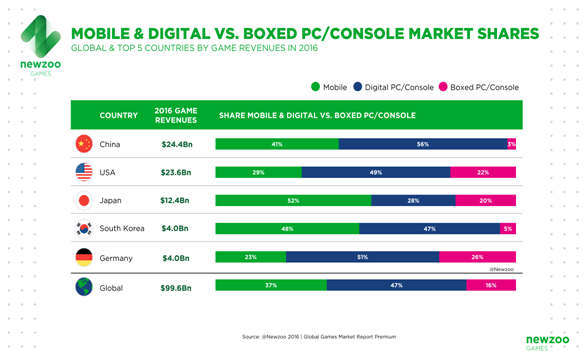 The overall digital games market is being predicted to reach $85 billion by 2016 end. South Korea is second in line at $4billion in its overall mobile game revenues. China tops the list for its whopping $24.4 billion global revenue from games.
Newzoo's report covers all forms of digital games – mobile, PC and console. According to the gaming reports company's data the world will churn overwhelming revenues worth $99.6billion from the game industry. According to Newzoo and other industry insiders, mobile games will be able to churn half of the total revenues.
The current data indicates a growth in revenues not just in the Japanese games market but around the globe. There is a considerable rise in earnings from the global games market. However mobile game developers can rejoice the fact that mobile games (global statistics) are all set to make $49.8 billion.