Why You Should Switch To Magento Ecommerce Development Platform?
Successful journey in the eCommerce world means having a solid web platform that brings out faster and more efficient navigation. Today's consumers look for flexible navigation and exact results produced on the basis of their searches. Magento is considered an extremely efficient open source platform that is easily customizable. Written in PHP this platform ensures well-organized commercial tools that maximize productivity, smooth navigation and user engagement.
Customers searching for their specific items (on an eCommerce website) look for good categorization, fast accessibility and availability of mobile versions. Magento eCommerce development falls in line with the growing need for matured and comprehensive utility browsing. According to the Magento community it is a robust platform that is suitable for startups and small sized businesses trying to host online eCommerce solutions.  Integrations and software changes can be easily made in Magento. Here are a few advantages of using Magento that you must consider while building your business identity.
Flexibility
There are various editions available in Magento. You can choose any one of them and make them fit according to your requirement. Magento Go is regarded as one of the best fits for small businesses. Choose according to your set budget, the size of your business and your exact needs. Magento Enterprise is suitable for large and medium sized business operations. With a wide range of themes, plug-ins and templates available your quest for uniqueness will be rightly served with Magento eCommerce development.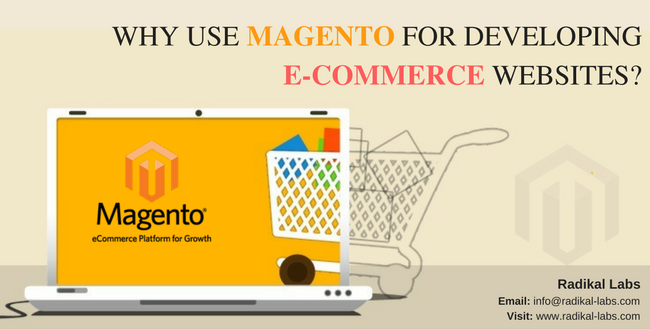 Simple Coding
Complex coding is not necessary in Magento. Existing platforms can be integrated. Websites built in different codes can be well integrated with the third party codes. There will be absolutely no conflict between core codes and Magento's third party codes. Extensions, add-ons and upgrades included in websites built on this platform are not found to create any form of disruption. Several businesses have switched to Magento for its ease of use and easy portability of web functionalities.
Development Friendly
Changes and upgrades form an integral part of websites. In order to grow your business you need to adapt to constant shifts in development trends. Magento ecommerce development platform is easier to manage and suitable for updating content, add web pages and link internal; web pages to the main and sub domain. Colossal web development efforts are reduced by Magento. Time and energies being saved by Magento makes businesses grow rapidly.
Easy Carting Facility
Consumer-friendly shopping cart development is of the biggest advantage in Magento. Categories and listings make way for an easy step-by-step product purchasing process. There are more than fifty payment gateways to choose from. You can integrate the best suitable gateway (according to your transaction volume and business strength) with your Magento eCommerce website.  Users get to access from multiple shopping options.
Numerous Features
Magento is a powerhouse of features and commercial functions. There are numerous features and options like wish lists, layered navigation, email list, product comparisons, advanced search, favorites, grouped products, multi store feature and CMS for static pages. An added benefit offered by Magento is its SEO performance support.
Magento's eCommerce websites have features that ensure efficient user experience and consumer satisfaction. If you are looking to move forward in the business world Magento eCommerce development will be your guiding light. It has become highly popular with website developers as it meets expectations of business owners around the world.
Are you looking to get a website created for a business? Discuss your plans with us at http://www.radikal-labs.com/contact